| | |
| --- | --- |
| Posted by Rona Freelance on September 18, 2012 at 5:50 PM | |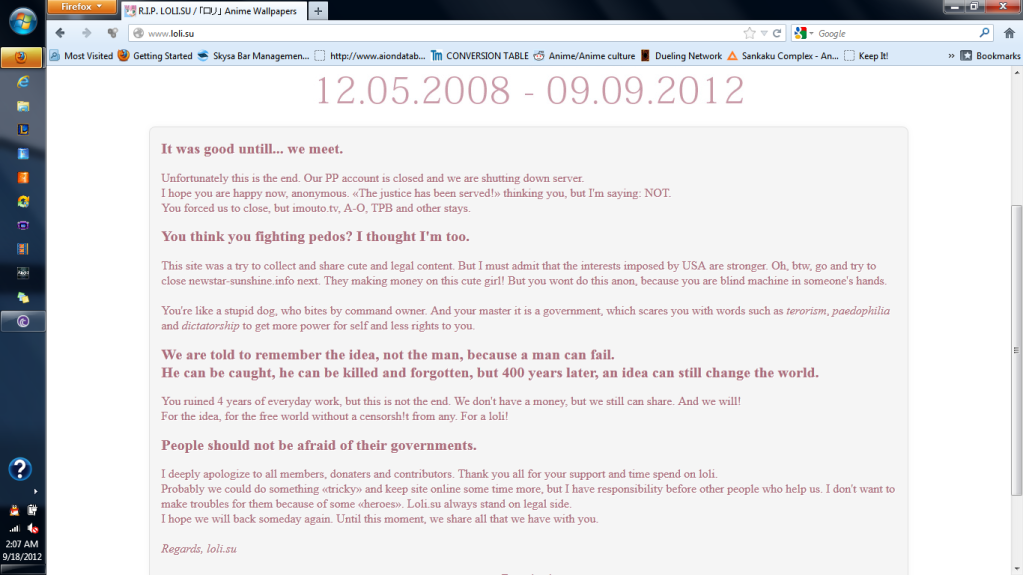 It's a sad sad day in the world of sis-con everywhere. One of our favorite Jr.idol sites, Loli.Su, has been taken down as of 9/9/2012 due to an Anon who couldn't understand the simple innocence between loving the innocent smile on a young girls face waving this sad banner on their home page. Since its founding in 12/5/2008 members, including yours truly have connected, contributed and shared over 90 gigs of loli photos, not for perverse reasons, no. though the motives of all cant be spoken for I myself have a special place in my heart for the smile of a child and not many understand that, being called a pedophile and a pervert when worse can be found easily is one of the tribulations of this hobby.
Child pornography is illegal virtually everywhere, and most if not all of the members of Loli.su were aware of this being sure that the photos did not cross any legal boarders. Loli.su was what is called a jr.idol image board that was falsely removed due to the ignorance of one simple person. Loli.su, and members you will forever be missed and hold a special place in my heart and the hearts of your community. Find the Loligraveyard (http://www.mediafire.com/?3tso8gmz3zj2jyk) the torrent is slow but its there 91 gigs of media so be carefull
04-07-2013
Update: http://www.mediafire.com/?3tso8gmz3zj2jyk here is another link to the torrent. Please leave any concerns in the comments below. Or if it becomes blocked we will put up another. Just make sure you give it a bit before assuming the torrent is broken. It is 91 gigs so the analysation process will take slightly longer. Happy Torrenting~

.